Description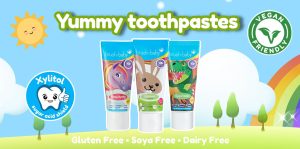 brush-baby infant toothpaste is perfect for your little one because it tastes great! Just use a smear on your children's toothbrush and you're ready to go! It is safe for little one as our children's toothpaste is safe for kids as it's SLS FREE, meaning it's non foaming and is suitable for vegans and vegetarians! Our kids toothpaste also contains Xylitol which reduces sugar acids and fluoride which strengthens milk teeth enamel.
Our toothpaste is also Gluten, Dairy, Soya, Palm Oil, Paraben and SLS Free
Why you'll Love it:
– Safe for kids since it is non-foaming
– Contains Xylitol which reduces sugar acids
– Fluoride which strengthens milk teeth enamel
– Enables access to hard to reach back gums and teeth which are sometimes difficult to reach with conventional teethers/toothbrushes
– Long-handled toothbrush for adult hands to ensure correct tooth bushing and established an early oral care routine.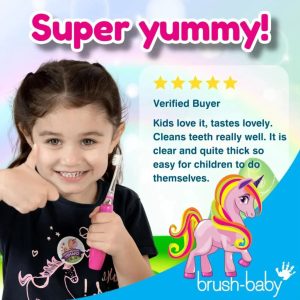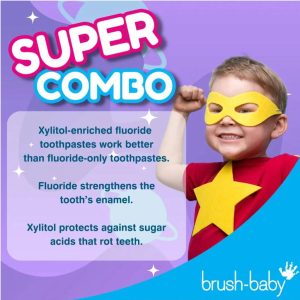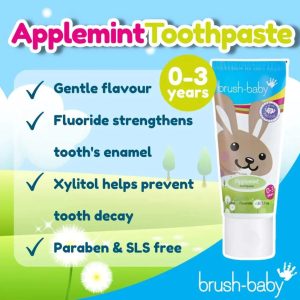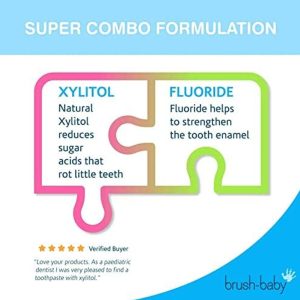 The Brush-Baby Story
Brush-Baby was inspired by a little girl who chewed her toothbrush! Having a sister who is a dentist I was well aware how important it was to keep my baby girl's gums and teeth clean. I was careful about what she ate and wanted to teach her that good oral hygiene habits (including liking her dentist!) could be fun, healthy and cool. But tooth-brushing time could be a real battle! She would chew her toothbrush, if I could get it into her mouth at all. When I went to the shops there was little available to help me. And so Brush-Baby was founded!
Brush-Baby's range of products have been designed especially for babies, toddlers and young children to takes into account their tooth development, habits and brushing skills. We want to help provide the best start for our children's oral health so that as they grow up they can have the beautiful smiles that they deserve and we all enjoy. From gummy smiles, to toothy smiles, to grown-up smiles, we're with you every smile of the way.