Description

TickledBabies and Baby-Brush Philippines are the exclusive distributor and official brand store of Brush-Baby. To ensure quality and authenticity of your purchase, please only transact from these authorized Shopee stores.
Children love the Brush-Baby BabySonic Toothbrush! If you baby or toddler won't let you brush, or they find brushing a chore, using an electric toothbrush can be an ideal alternative to traditional manual toothbrushes or finger brushes. Every 30 seconds you can feel a pulse in the brush vibrations. This teaches your little one to brush each section of their mouth – bottom right, bottom left, top right, top left – for the right amount of time. The brush will power off after 2 minutes so you and your little one know exactly when you're done!

The BabySonic toothbrush is perfectly designed to take care of little mouths. It is small, light and is easy to use at brushing time. The LED light makes brushing fun for babies and toddlers, whilst giving you the chance to see their baby teeth clearly and check them. The tiny brush head and soft bristles are gentle on new baby teeth and sore teething gums. The toothbrush vibrates, rather than rotating or spinning, the sonic action effectively and gently brushing tiny teeth.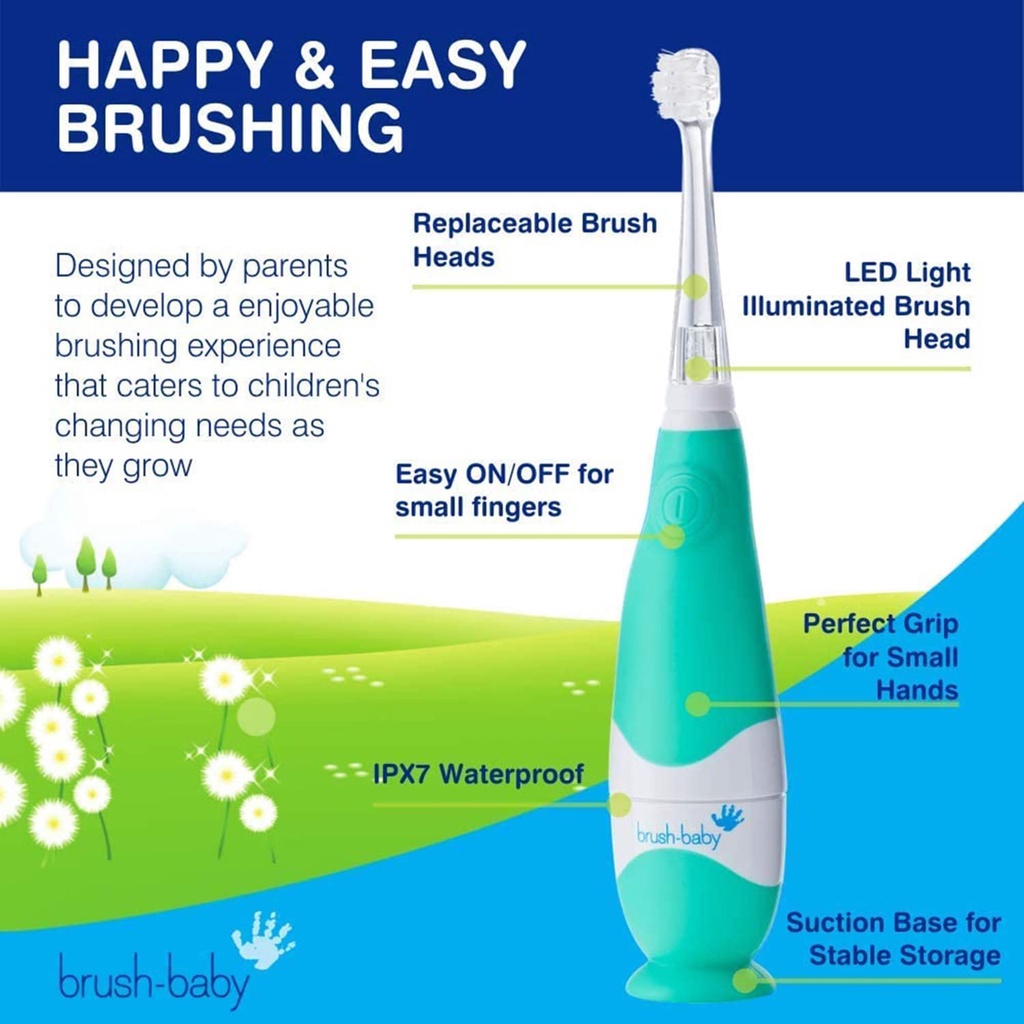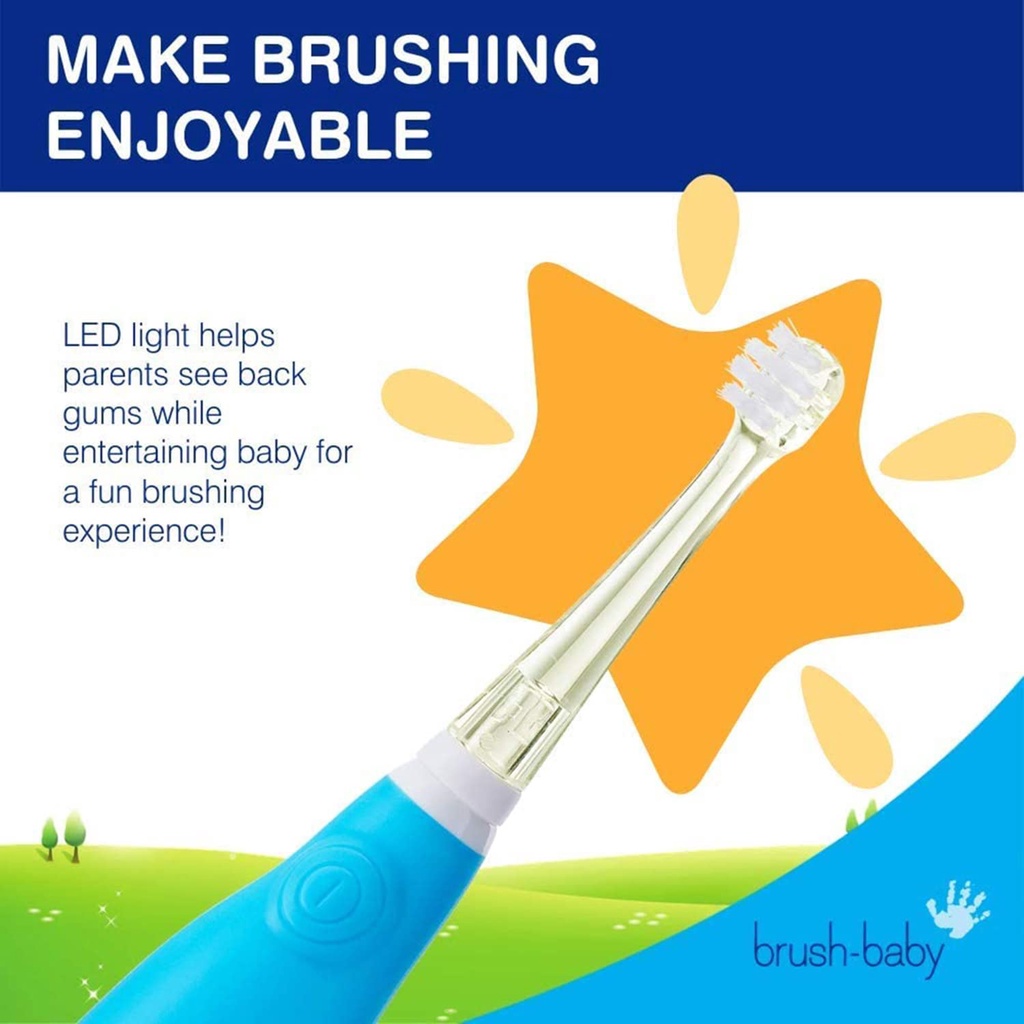 A fun suction base allows for easy storage and the BabySonic is waterproof so can be used in the bath!
Suitable from birth, the BabySonic is designed to grow with your baby, offering a selection of infant-size and toddler-size replacement brush heads.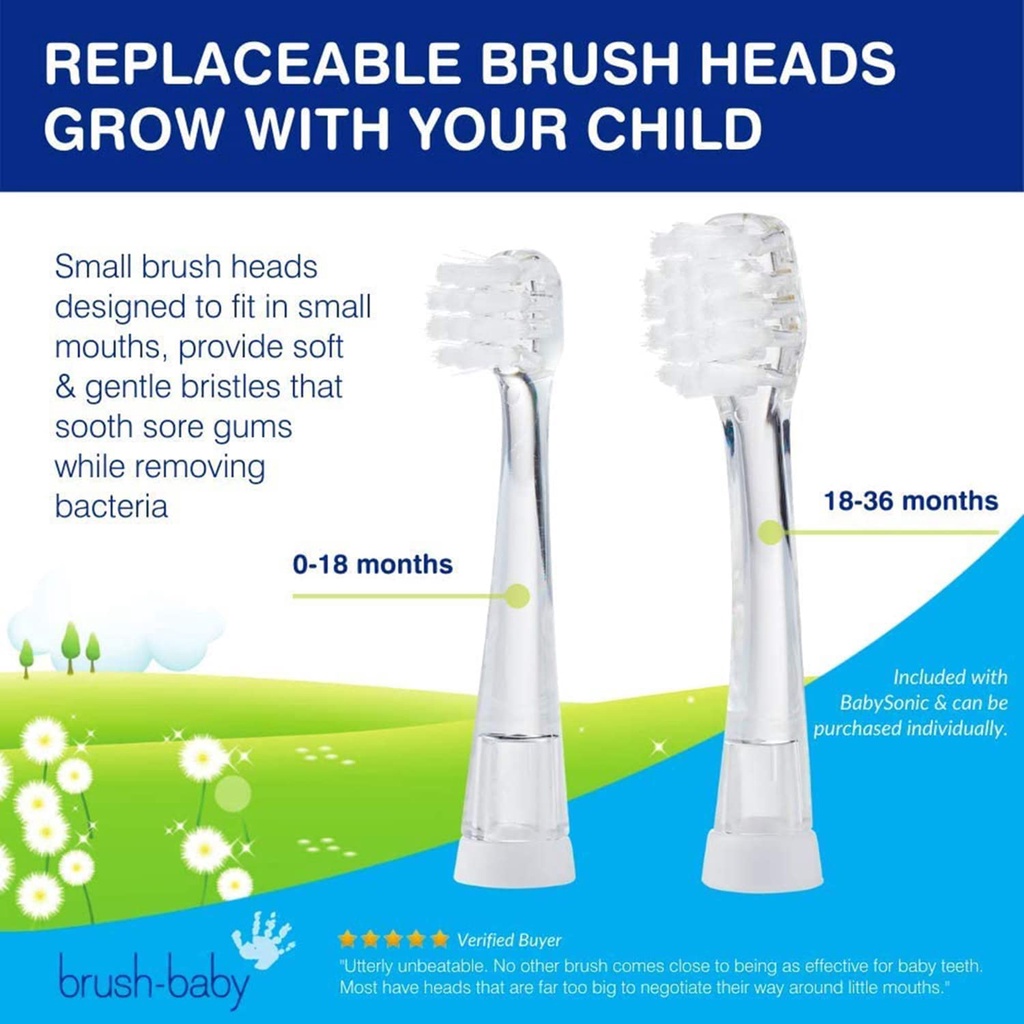 Just replace the brush head to keep using the BabySonic until they turn 3! The infant replacement brush head is suitable from 0 – 18 months and has a tiny brush head for little mouths. The extra toddler replacement brush
head is suitable from 18 – 36 months.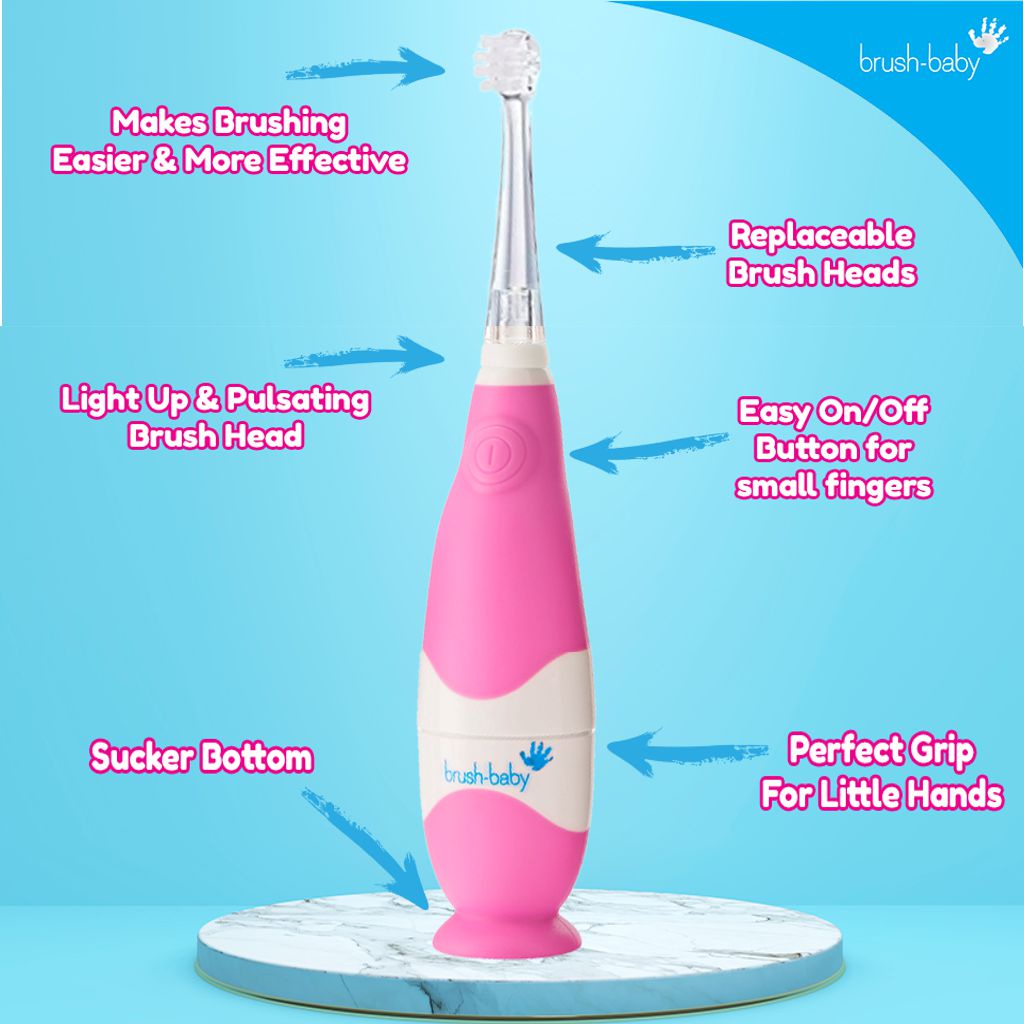 The Brush-Baby BabySonic toothbrush is a perfect baby shower gift for expectant mums, as it is designed to grow with your baby, offering a selection of infant-size and toddler-size replacement brush heads.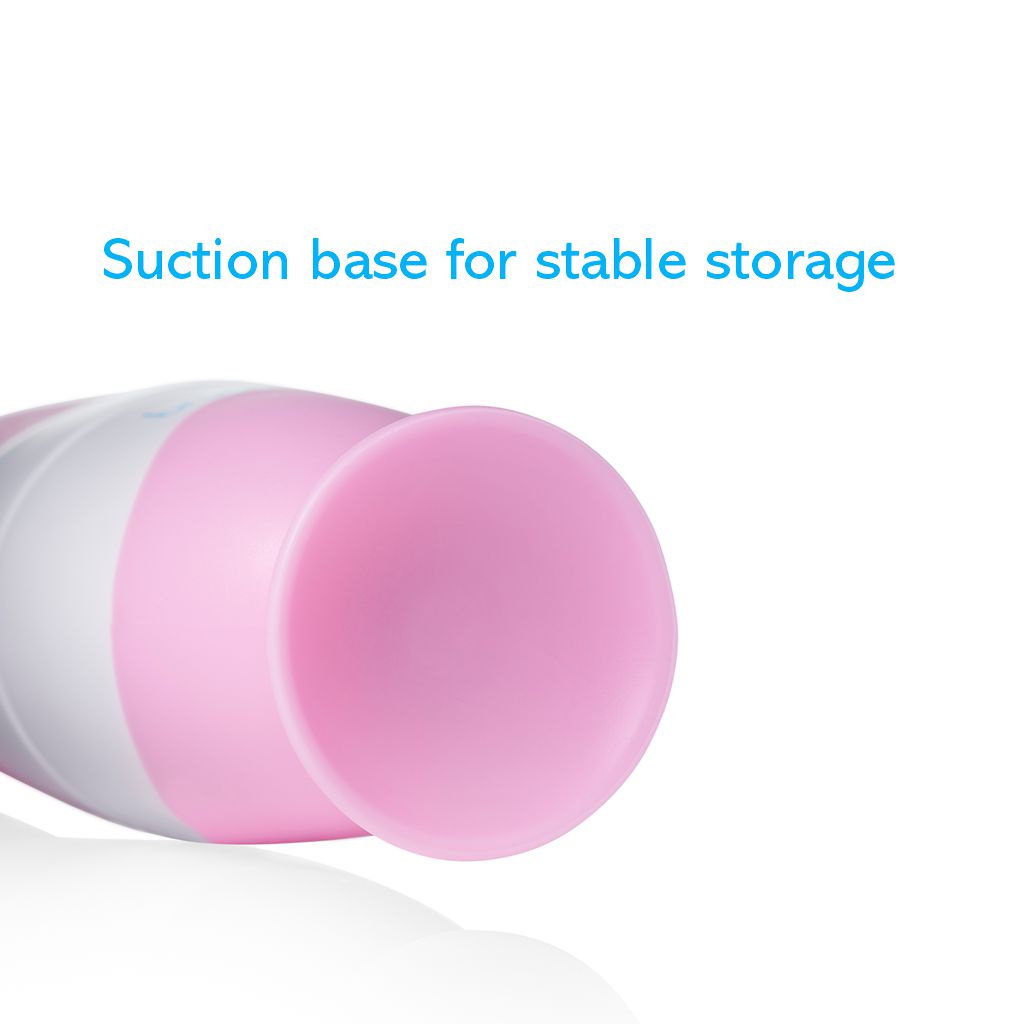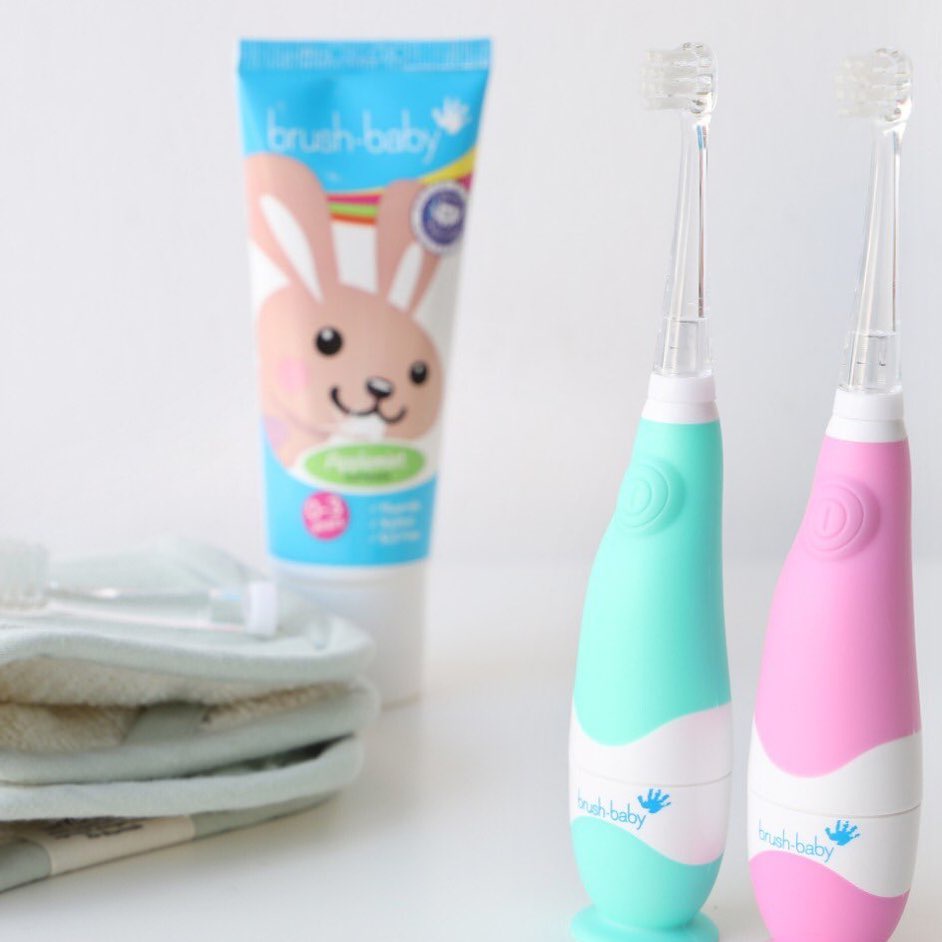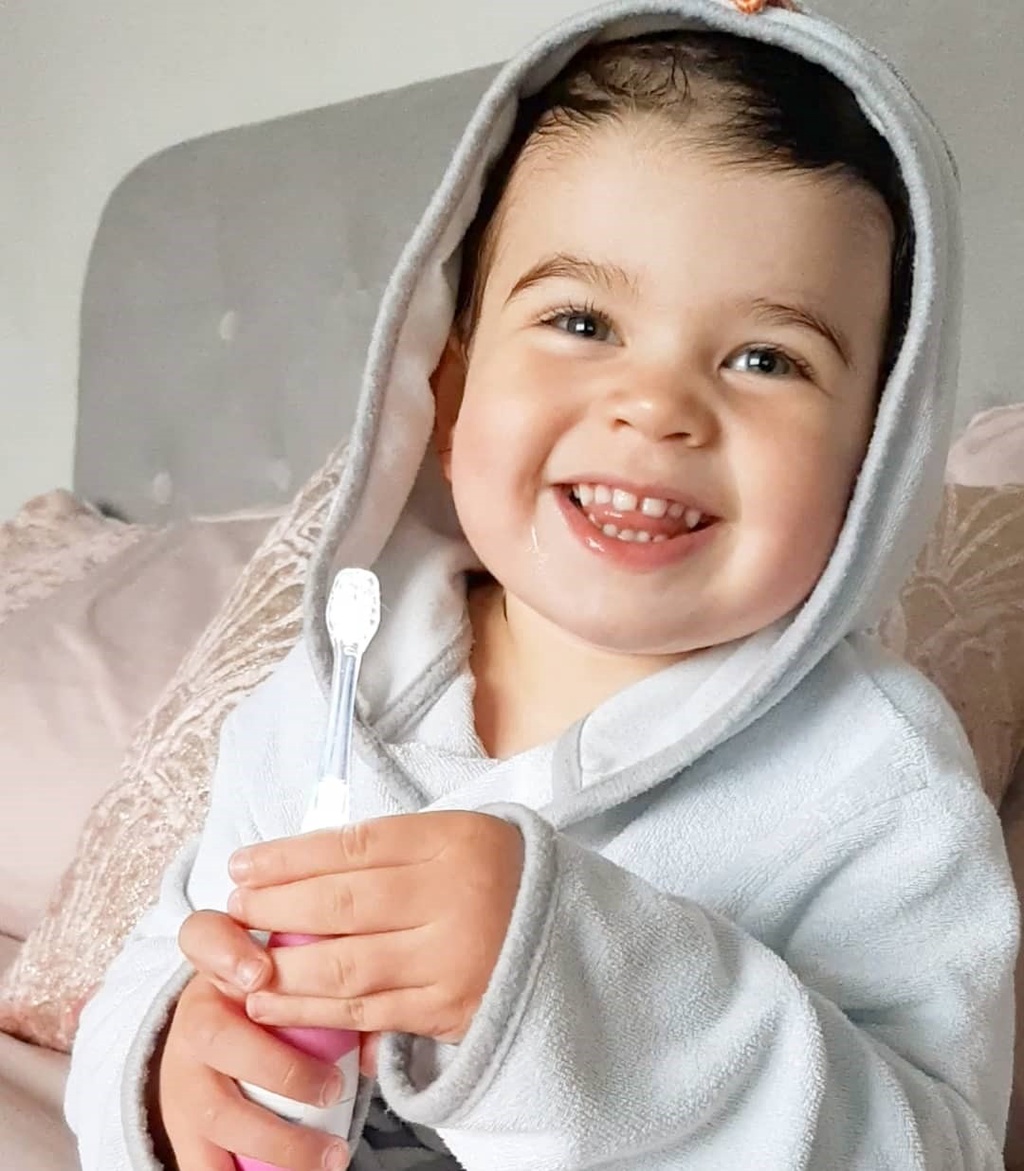 Why You'll Love it:
Small and light – perfectly sized electric toothbrush for little people to use
Small baby and toddler brush heads – fits little mouths
Soft bristles keep baby teeth and gums clean
Gentle vibrations
Fun 2 minute light timer
Includes a suction base for stable storage
Pulses (hiccups!) every 30 seconds – teaches moving the brush to different parts of the mouth
Includes 1 x AAA Alkaline battery (uses only Alkaline batteries)
Buy your replacement brush heads 0-18 months here and 18-36 months here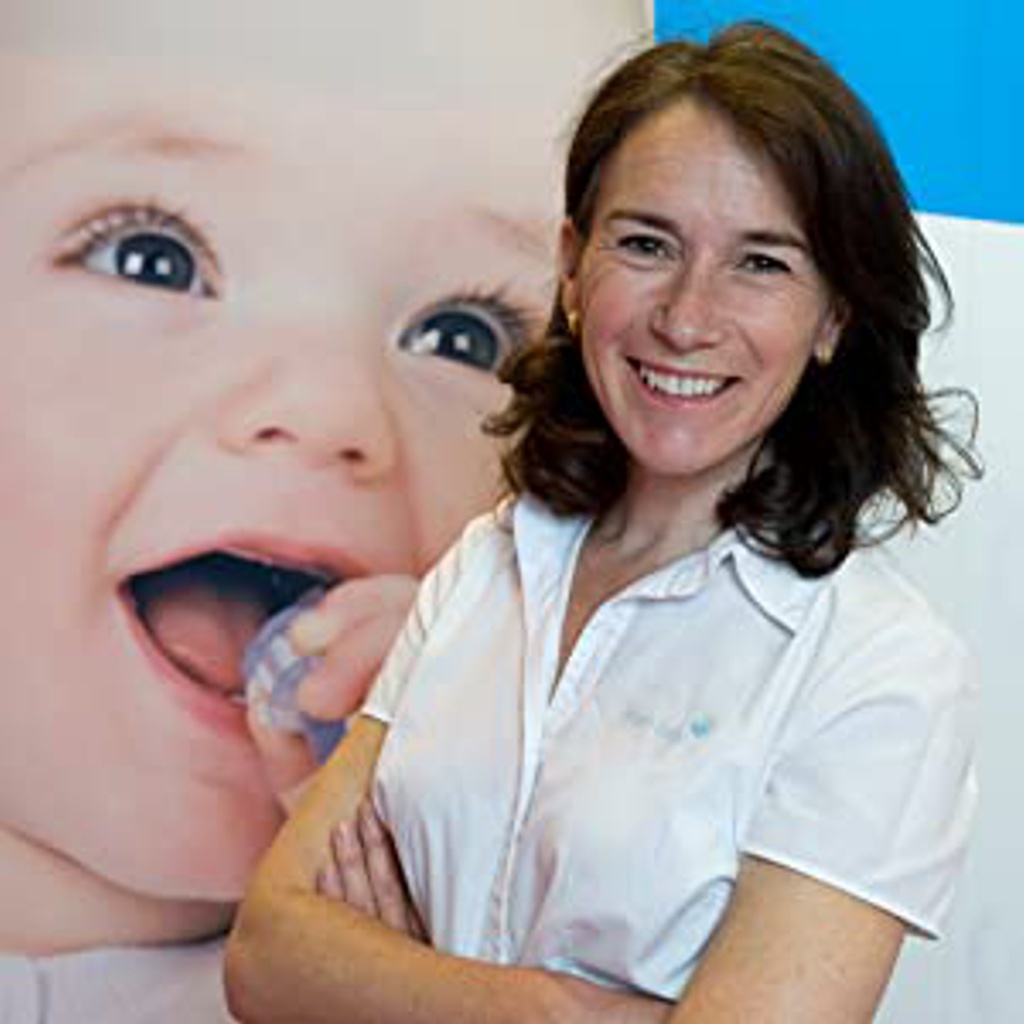 The Brush-Baby Story
Brush-Baby was inspired by a little girl who chewed her toothbrush! Having a sister who is a dentist I was well aware how important it was to keep my baby girl's gums and teeth clean. I was careful about what she ate and wanted to teach her that good oral hygiene habits (including liking her dentist!) could be fun, healthy and cool. But tooth-brushing time could be a real battle! She would chew her toothbrush, if I could get it into her mouth at all. When I went to the shops there was little available to help me. And so Brush-Baby was founded!
Brush-Baby's range of products have been designed especially for babies, toddlers and young children to takes into account their tooth development, habits and brushing skills. We want to help provide the best start for our children's oral health so that as they grow up they can have the beautiful smiles that they deserve and we all enjoy. From gummy smiles, to toothy smiles, to grown-up smiles, we're with you every smile of the way.