Description
OXO Tot On The Go Fork and Spoon Set with Carrying Case is designed to be eary to use, whether taking your tot on a picnic, or sending them off to school. The Fork tines are effective enough for picking up food, but not too sharp to protect little fingers. The deep Spoon shape makes it easy to scoop. The curved, non-slip handles are easy for learning hands to hold and feature a flat spot to keep them from rolling away. The Fork and Spoon fit neatly in their compact travel case, which can be easily tucked into lunchboxes, diaper bags or purses for on-the-go-meals.
Specially Designed for Little Hands
The stainless steel OXO Tot Fork and Spoon Set helps your child successfully use eating utensils by easing the frustrations of learning to self-feed. Designed for toddlers 12 months and older, the fork and spoon feature broad handles with soft, bright green non-slip grips, making them easy to hold while scooping yogurt or piercing pasta. A flat spot on the handles prevents the utensils from rolling off the table or high chair, and the fork and spoon's grips keep them from sliding into bowls or plates.
Captures Food Easily, Safely and Effectively
The fork tines pierce food effectively–without sharp edges–so toddlers can capture slippery food without accidentally hurting themselves. And to make self-feeding as easy as possible, the spoon has a deep head for effortless scooping.
Safe and Convenient
The Fork and Spoon Set is BPA-, phthalate-, and PVC-free, so you'll have one less thing to worry about at mealtime. And the utensils are dishwasher safe for added convenience.
The OXO Tot Feeding Line: The Right Tools for the Job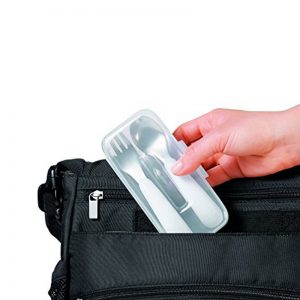 Why You'll Love It:
– Compact case fits easily into diaper bags and lunchboxes for on-the-go meals
– Effective fork tines, yet no sharp edges, deep spoon shape for easier scooping of food and liquids
– Deep Spoon shape for easy scooping
– Curved, non-slip handles are easy for little ones to hold
– Flat spot on bottom of weighted handles helps prevent rolling
– Handles are curved to prevent slipping into bowl or plate
– Sturdy stainless steel for durability
– BPA, phthalate and pvc free
Care Instructions: Washing with warm soapy water will do. Do not expose any plastic / silicone product to extreme heat or UV as it may cause damage and increase wear and tear.
Follow OXO Tot on Facebook and Instagram for more updates and promos