Description
TickledBabies and b.box Philippines are the exclusive distributor and official brand store of b.box. To ensure quality and authenticity of your purchase, please only transact from these authorized stores.
PACK CONTAINS:
– bbox Bento Lunch Box
– Tritan Drink Bottle (450 ml OR 600 ml)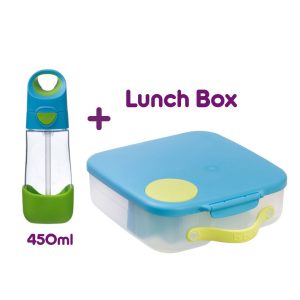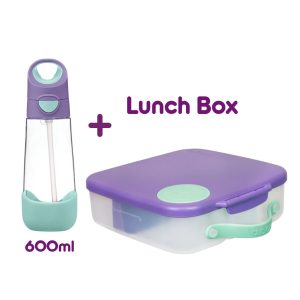 B.box Bento Lunch Box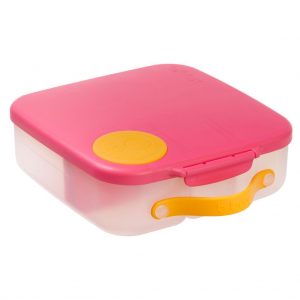 The whole foods lunchbox. Kids love different choices throughout the day, so we've designed a lunchbox that offers parents and kids more flexibility. Lunchbox – strawberry shake features a large compartment that fits a whole sandwich. Plus, sitting underneath the tray is an included gel cooler pack to keep food fresher and cooler for longer. Or, remove the sandwich tray and the compartment now easily fits pasta and salads. Its unique flexi whole fruit holder lets you store a whole apple, as the stretchy seal bends around the shape of your fruit – no need to cut fruit into smaller sizes! Leak-proof silicone seals lets you store wet foods like watermelon and yoghurts (no liquids). The custom divider slides across enabling parents to adjust the compartment size as they need, or remove it to fit a whole banana or wrap.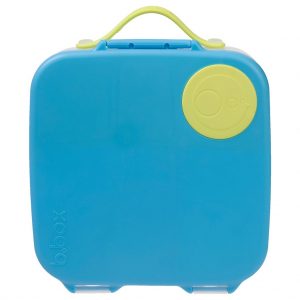 Easy to open latch and handle encourages independence. Freezer safe.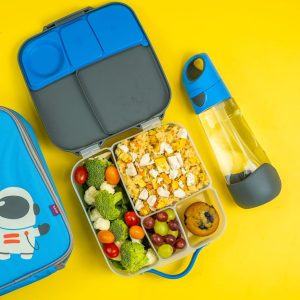 Why You'll LOVE it:
– Australia's No 1 feeding brand
– Large compartment fits a whole sandwich or bagel/roll. Remove tray to use for pasta or salads
– Gel cooler pack (included) sits underneath sandwich tray to help keep food cooler and fresher for longer
– Custom divider enables you to adjust the compartment size. Or remove to fit a whole banana or wrap
– Leak-proof silicone seals secure wet foods, like watermelon and yoghurt (no liquids) . Seals are removable for easy cleaning and prevents mould build up.
– Unique whole fruit compartment with stretchy seal means no need to cut fruit into small sizes
– Easy to open design, with handles and large grip clip – encourages independence
– Hand wash and freezer safe
– Made from PP and silicone
– BPS, PVC, BPA and Phthalate free
– Age guide: from 3 years plus
– Dimensions: 235mm (h) x 215mm (w) x 65mm (d)
– Weight: 0.47 kg
– Capacity (ltr): 2
B.box Tritan Drink Bottle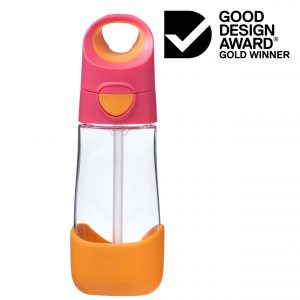 Made from Tritan™, our unique big kids' drink bottle is ideal for kindy and school kids. Its unique triangle shape bottle is designed specifically for little hands, making it easier for kids to grip. Easy push button pops open the lid, keeping straw tops hygienic when closed and never goes astray. Spill-proof bite valve straw top prevents accidental spills. Robust carry handle makes it easy for kids to carry and remove out of school bags. Its 450ml capacity and angled silicone straw lets kids drink to the very last drop and stay hydrated throughout the day. Minimal parts and ultra easy to assemble / disassemble and clean. Dishwasher safe. Plus, customise the look with removable bumper
Replacement straw packs available, sold separately.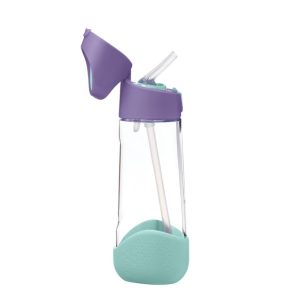 *. Tritan is a durable plastic that has much greater shatter resistance than other plastics and glass. It won't warp or crack in the dishwasher. And, unlike stainless steel, Tritan won't dent or ding.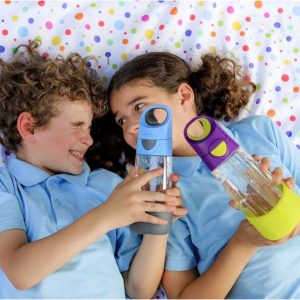 Why You'll LOVE it:
– Australia's No 1 feeding brand
– Highest Rated Water Bottle by Tell Me Baby, Australia's Biggest Baby Product Review Website
– 9 Months+
– Unique ergonomic triangular shape bottle fits the two-hand grip of a child perfectly.
– Easy to open/close lid. Lid pops open at the press of button and locks into place to prevent hitting the child in the face when tipped forward.
– Spill-proof bite valve straw top prevents accidental spills
– Robust carry handle makes it easy to carry and remove out of school bags
– Silicone straw top and angled straw – allows kids to drink even when tilted.
– Large opening to easily refill and insert ice cubes
– Minimal parts makes it easy to clean, assemble/disassemble
– Removable bumper, to customize the look
– Dishwasher Safe
– 450mls/15oz capacity